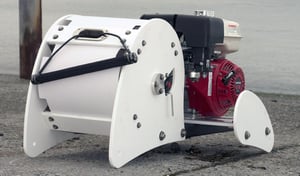 $

3,200.00
The time has come to offer you a more effortless winch experience!
La Sewer Winches
Model: The White Knight
After 6 years of ups and downs, working with every winch on the market, a design was conceived to magnify the winching experience. Starting from the ground up we have chosen high quality materials and components to give you power when you need it most, not when a converter decides. For the La Sewer winch, we picked the toughest materials to fit our goals: simple, reliable, non-corrosive, increased longevity and a wide range of performance. We feel these goals have been reached and will continue to improve. The winching experience is complimented with the La Sewer winch by, providing an effortless rope walk out, far away deep water starts and a no snag design in which we eliminated sharp metal corners/edges.
Product Features:
• Non-Corrosive Design (including a non-corrosive, non-rolling rope guide)
• 9 hp Honda Engine with 3 Year Limited Engine Warranty
• 2 Year Manufacturer Limited Warranty
• 1,200' of Rope
• 2" Direct Hitch Plug
• Multiple Sprocket Choices For Desired Speeds
• #40 Heavy Duty Roller Chain
• Heavy Duty Natural Ground Gripping Design
• Back Country Wheels
• Splash Guards
• Stop On A Dime Brake
• 100% Replaceable Parts
AVAILABLE BY ORDER ONLY
WARNING! WINCH USE CAN BE HAZARDOUS TO YOUR HEALTH, CAUSING SERIOUS INJURY
OR DEATH!